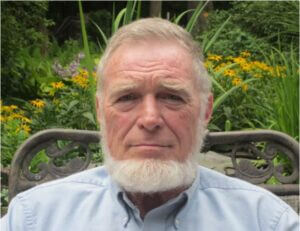 My fascination with knives goes way back – my first cut requiring stitches was at age four, but it did not stop my parents from allowing me to buy knives as a young child. Until the last decade, I have always bought knives based on impulse and I have never sold a knife. I retired from Penn State University's faculty in 2009, after 36 years with the several different Colleges working on many different applied issues in developing and evaluating community services for older adults.

The history and quality of this little Pennsylvania company got my attention with highly finished keystone shields and I have tried to acquire and learn more about Queen Cutlery knives. The lack of documentation about Queen knives shocked me. So, my basic pursuit has always been " What did Queen produce?"

Working with Fred Fisher and David Clarks generous sharing of catalogs and price lists, we started the Queen Catalog Database. The "Guides" through three editions, covering 70 years, efficiently provide thorough answers to what
Queen produced through 1979. 1980 through 2017 are well covered, though special factory ordered knives and Queen special projects knives leave much more to be added. I am now working on sources and identifying knives in those
categories.
My own collecting has focused on lockable folding knives by Queen and its predecessors and a few others knives that strike me, adding more "bling" knives my granddaughters might like. Lately, obtaining bankruptcy documents, I am
also developing more interest in the history of the people and company who made the knives.

I think we all share the same goal of increasing information that will help future Queen collectors become better informed and more competent in pursuing their interest, which should help our growing collections increase their
value for all our grandchildren.
I retired from the trucking industry in 2003 with 37 years of service as a Teamster. My interest in knives began around 1980 when I started collecting the fish knife pattern. I really liked the looks of the Queen fish knives and decided to find out where the Queen Factory was. Much to my surprise, the factory was in Titusville Pennsylvania and I live in the state of Ohio.
I used to attend the monthly Flea Market in Washington Court House in Ohio and met Ray Goldstein, Bill Bryant, and Clarence Risner who sold knives and were gracious enough to educate a beginner on Queen knives. Ray suggested I should attend the NKCA Shows, one of which was in Erlanger, Ky. There I met Bob Siple, Jim Sargent and the others from Washington Court House Flea Market. I was like a kid in a candy store! I wanted one of everything I saw!
I asked Bob Siple a lot of questions about Queen Knives as he was the former Sales Manager from the Company. He was very informative and taught me a lot about this brand of knives. I would pick up any literature I could find concerning Queen Knives. A few years later, I was very lucky to meet Joe and Betty Dial from Alabama who were collectors of Queen. They were very knowledgeable about the history of Queen and provided much information to help me learn.
I decided to collect Queen Knives from the era after WWII. This was when they started with the Stainless Knives and I was determined to collect every pattern, handle material, tang stamp, and etch Queen made.
Jim Sargent approached me in 1991 and asked me to help with the book titled 'Sargent's Premium Guide to Cutlery', working on the Queen section. I took my knives to the show in Chicago and Jim had a photographer take pictures of all my knives. I did a total of 3 books for Mr. Sargent with the last book, completed in 2008 with my complete
collection of Queen Knives photographed and also did the description and value of each knife in my home.
I'm still an avid collector. I search eBay, Flea Markets, and Knife Shows to find new treasures.
Linda is Fred's constant companion and is an integral part of his collecting. She will staff his table at Knife shows, help administer his correspondence. and is a great gift to all Queen collectors.
Carl Bradshaw was born in Meadville, Pennsylvania. His interest in knives began at the very young age of 5, attending knife shows around the country with his grandfather, Bob Siple, who was at one time the Sales Manager for Queen Cutlery. At these large knife shows, he was introduced to many knowledgeable and interesting people from whom he was able to learn more about knives. Beginning in 1995, his grandfather began buying him the annual NKCA Youth Knives, which was the beginning of his collection. Over the years, Carl was able to acquire the entire set of NKCA Youth Knives from 1990 through 2013, including many of the prototypes as well.
Carl's collection then began to focus on the Tuna Valley brand of knives, after his grandfather gave him one of the original 1906 pearl knives. In addition, Carl
enjoys knife photography and graphics. He has done advertising work for various knife companies, dealers, magazines, and websites. He enjoys attending knife shows with his wife and daughter, and traveling the country to see new sights, and meet new people.
          I have been a state employee for the last 26 years with the Department of Human Services at Polk Center, in Polk, PA., taking direct care of the men and women who live there.
          As a kid I remember my Dad stopping at the Queen factory in Titusville and I instantly fell in love with the all the knives that they had in the showcase. On that day Dad bought a bird and trout knife, but nothing for me. I was devastated, not getting one till the following year, 1977. I joined the Cub Scouts and as a gift Dad bought me a Queen Scout knife – My Dad knew of my disappointment in not getting a knife in the previous visit to the factory, so he went back and bought me my first Queen knife. I was so proud of that knife. Sadness developed in 2001, when it was stolen.
          That first Queen knife and the visits to the factory showroom started my addiction that has continued today.  I have bought many brand knives through the years, but my heart as was always with that first Queen.
          My collection spans many production years, but I mainly collect focus on the Winterbottom Queens from 1948 – 1961, as I love that bone and the quality during those years. In their last few years, I did also buy unusual new patterns Queen Cutlery introduced, especially their innovations in developing the "Express" switchblade knives, which highlighted their ability to produce very fine knives.     
          After 2015, with the company closing and the auction just around the corner, I shifted my efforts to preserving as many historical items from the company as possible. You could find me digging in the dumpster, buying items during the action and searching for any unwanted items after the auction on the final clean-out of the factory.  My hope is to bring some of these items to light and give a better understanding of Queen's history and the cutlery industry.